Project
BASE at Design Week 2023 — We Will Design: We have an I.D.E.A.
We Will Design: We have an I.D.E.A. is the topic of the 2023 edition
From 17th to 23rd April "We Will Design", the experimental laboratory promoting by BASE featuring designers from all over the world, schools, universities, international institutions and young students, using design to conjure up new tools, practices and experiences developed around the acronym of I.D.E.A. — Inclusion, Diversity, Equity and Accessibility.
The aim of this edition is to start a reflection around the concept of a democratic, plural and inclusive design, able to include people of all ages, abilities, gender and culture.
During the Design Week, BASE is presenting original projects, exhibitions, workshop and events developed around the acronym I.D.E.A.:
INCLUSION: intended as creating an environment in which every individual can feel welcomed, safe, respected, evaluated and supported to consent the full participation and contribution.
DIVERSITY: the perception that each individual is unique with his/her own peculiarity. Ethnic origins, gender (identity, expression), sexual orientation, provenance, social and financial state, religion or personal beliefs, marital status, age and disability.
EQUITY: intended as identifying and removing the barriers, especially the economic ones, to guarantee full participation of each person and group.
ACCESSIBILITY: meaning the designing of products, devices, services or environments for people with disabilities. A set of solutions consenting to the majority of people to join the activities in the most effective way possible.
Four dimensions and hundreds of intersections and shades, that weave together the lives of almost 8 billion of people on the planet. People of every gender, race, age, ability, culture, to whom the plural design is addressed by definition
The plurality of design promoted by BASE also refers to the process of co-design and co-creation with all those actors that usually aren't involved in contemporary design's conversations and tools.
---
We Will Design is not just a space of narration and exhibition: it is a one-year long path of experimentation with residencies and international exchanges, in which design practices and experiences become a device to read — and sometimes solve — the many contradictions of our present. A test-field for projects that will be released during the Design Week.
The Design Week at BASE Milano:  
In the Ground Hall at BASE's entrance: Cancel Patriarchy, a large immersive installation by the French artistic collective Claire Fontaine.
We Will Design 2023 is Temporary Home. Exhibit. Kids. Music. Public Program.
Temporary Home: five designers from France, England, Germany, the Netherlands and Greece, will turn casaBASE into an atypical residency, a home, an experimental place, a space of storytelling and interaction with the public.
Exhibit: a big research platform that gathers Italian and international projects and installations on topics and challenges of our time, curated by universities, multidisciplinary collectives, designers and young talents, together with the projectualities arising from the design residencies promoted by BASE during the year.
We Will Design – Kids: a child-sized guide and a series of workshops to give to the youngest the opportunity to get closer to the world of design.
We Will Design Music:  every night of this Design Week will vibrate to the sound of We Will Design Music Festival. Inside and outside BASE, with the special collaboration of Volvo Car Italia and Le Cannibale.
Public Program: three meetings to explore and experiment the concepts of accessibility, future, community, creative cities, movement, change.
---
We Will Design: We have an I.D.E.A.  
Under the patronage of: Municipality of Milano
Partner: Volvo Car Italia, Moleskine
BASE's Institutional Partners: Ministero della Cultura - Direzione Generale Creatività Contemporanea, Creative Living Lab, Comune di Milano, Fondazione Cariplo, Fondazione Banca Popolare di Milano, Creative Industries Fund NL
Design Week's Institutional Partners: Embassy and the General Consulate of the Netherlands in Italy, Goethe-Institut Mailand, Istituto Romeno di Cultura e Ricerca Umanistica di Venezia, British Council, Onassis Stegi, Romanian Design Week
Design Week's media partners: Abitare, Archiproducts, Artribune, Dezeen, Domus, Exibart, Fuorisalone.it, Lampoon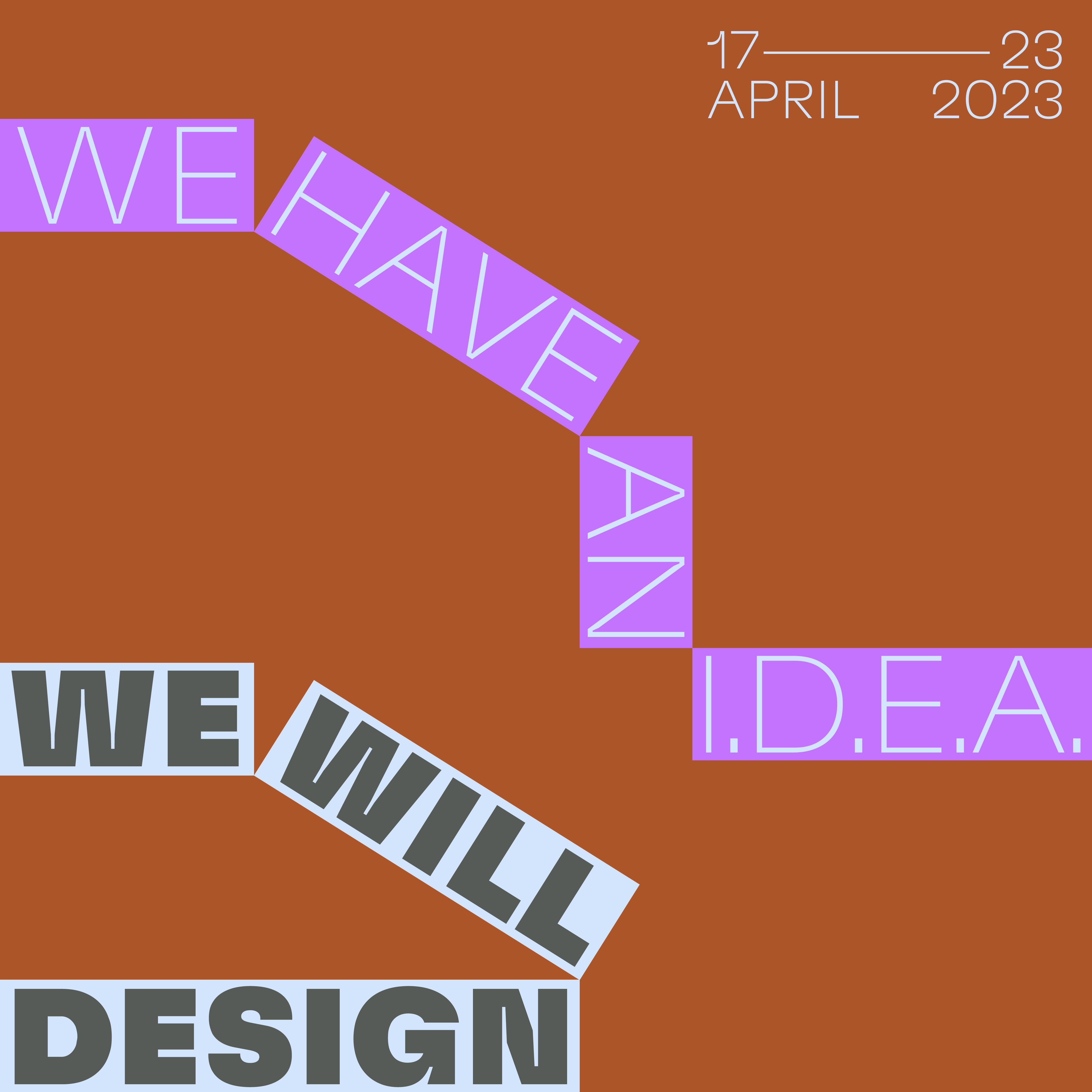 Visit website
Send email
INFO

BASE Milano
Via Bergognone 34, Milano  
www.base.milano.it    
Orari:
mon 10.30am - 7pm
tue-sat 10.30am - 8pm 
sun 10.30am - 6pm