CONTINUUM is a spacetime LIVE INSTALLATION.
And at the end: it has no time. All the arts here are timeless.
New dimension means PURITY.
The purity of design, the purity of the mind, the purity of the choices we are making in life.
Victoria Yakusha is a Ukrainian-born designer and architect who united five different visionaries who shared different senses of worldview. Each of five visionaries is the one who is a creator, an artist who does things out of the time, ahead of this time. This is a place that crosses the past, the present & the future.
Each of six visionaries speaks with own medium: DESIGN FASHION CRAFT CULINARY PERFUMERY

THE SPACE
Entering the space You go deeper into your condition which helps you to concentrate more on senses. You lose time. It is all about CONTINUUM. The exhibition will gradually reveal various performances throughout the Milan design week. Every day is a new feeling experience of CONTINUUM. Located in the heart of Milan, the space is a place of creation, production, exchange and experimentation dedicated to design. Although each section is independent and has its own spirit, dedicated to the special craft.

VICTORIA YAKUSHA
Victoria is a conceptualist of the exhibition, who united the artists.
Victoria Yakusha is a Ukrainian-born designer and architect whose practice is immersed in her philosophy of 'live design', centered around a deep connection to earth and ethnic roots. Victoria Yakusha established FAINA — a design brand of furniture, decor, and lighting rooted in cultural heritage.
Primitiveness, archetypal forms and traditional Ukrainian crafts passed down through generations — FAINA presents a sensual and spirited take on minimalism which has brought the brand to the forefront of modern Ukrainian design.

MOVCHUN
MOVCHUN furniture collection by FAINA reveals the interaction between human beings and nature through contemplation. MOVCHUN is derived from Ukrainian 'keep silence''. Silence is what slows you down to feel the connec- tion between You and the Earth to keep you grounded with their heavy shapes.
While creating MOVCHUN, we have invented a unique production method which is safe for the environment and convenient in contemporary life usage. We used cardboard ZTISTA made from a blend of cellulose, clay, flax fiber, wood chips, biopolymer created by Ukrainian artist Victoria Yakusha, where she re-thinks a sustainable design approach with organic circular materials. The fabric is 100% natural: hévea latex, coir, konopon. Our technological process is about close connection with nature, natural material and handcrafted artisans touch.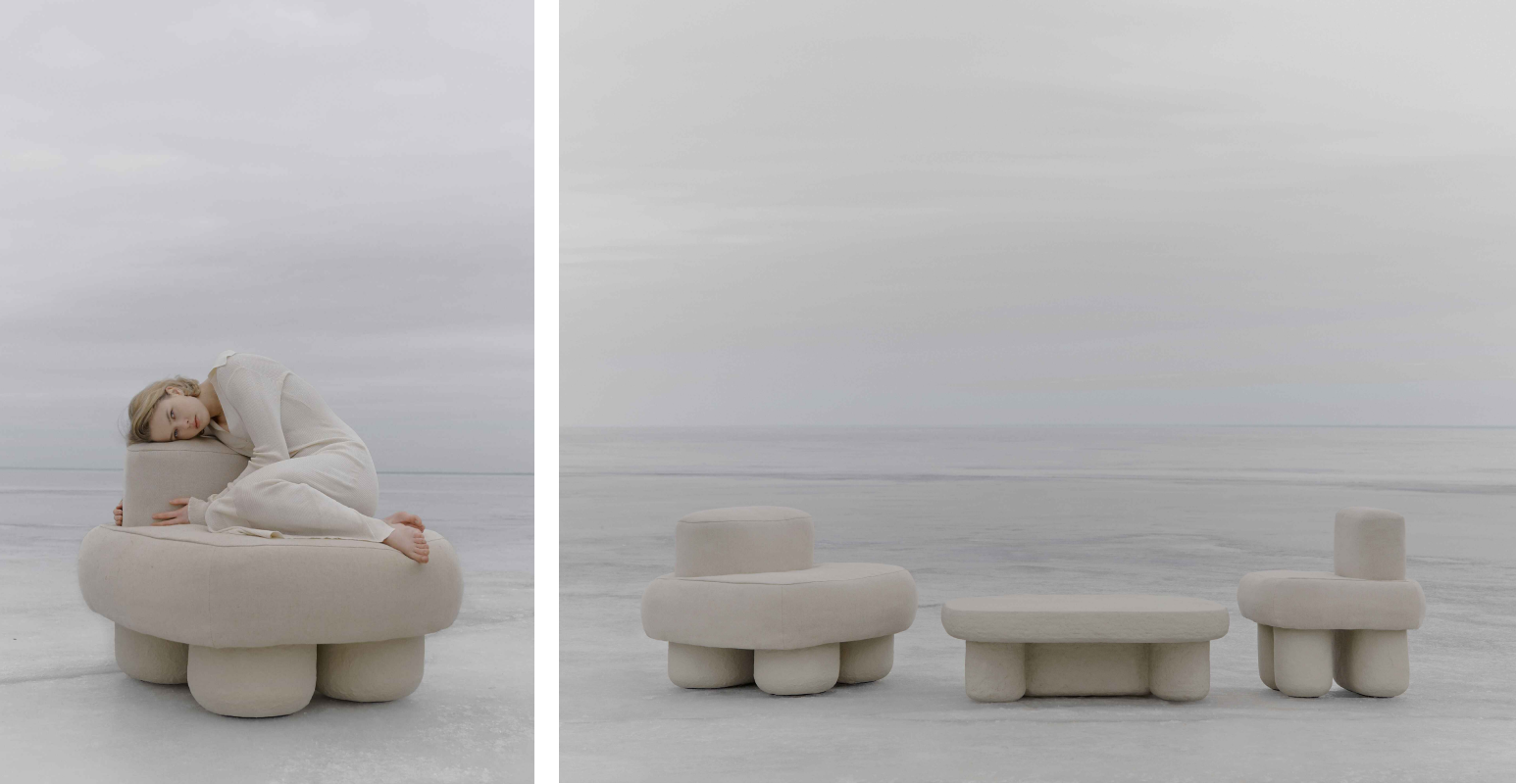 SLUHACH
SLUHACH furniture collection by FAINA brings people closer to nature through perception and feeling. SLUHACH is derived from Ukrainian "to listen". The collection reveals the ability to listen and feel everything around.
Visually, the shape of the lamps resembles locators that "listen" to the surrounding world. The texture of the products is similar to a separate sense organ. Muslin is 100% natural water resistant, quick-drying, lightweight cotton which is very safe for the environment. As for the floor lamp it has legs made from our signature ZTISTA material. So it has very flexible construction and you can disassemble it for washing and transportation.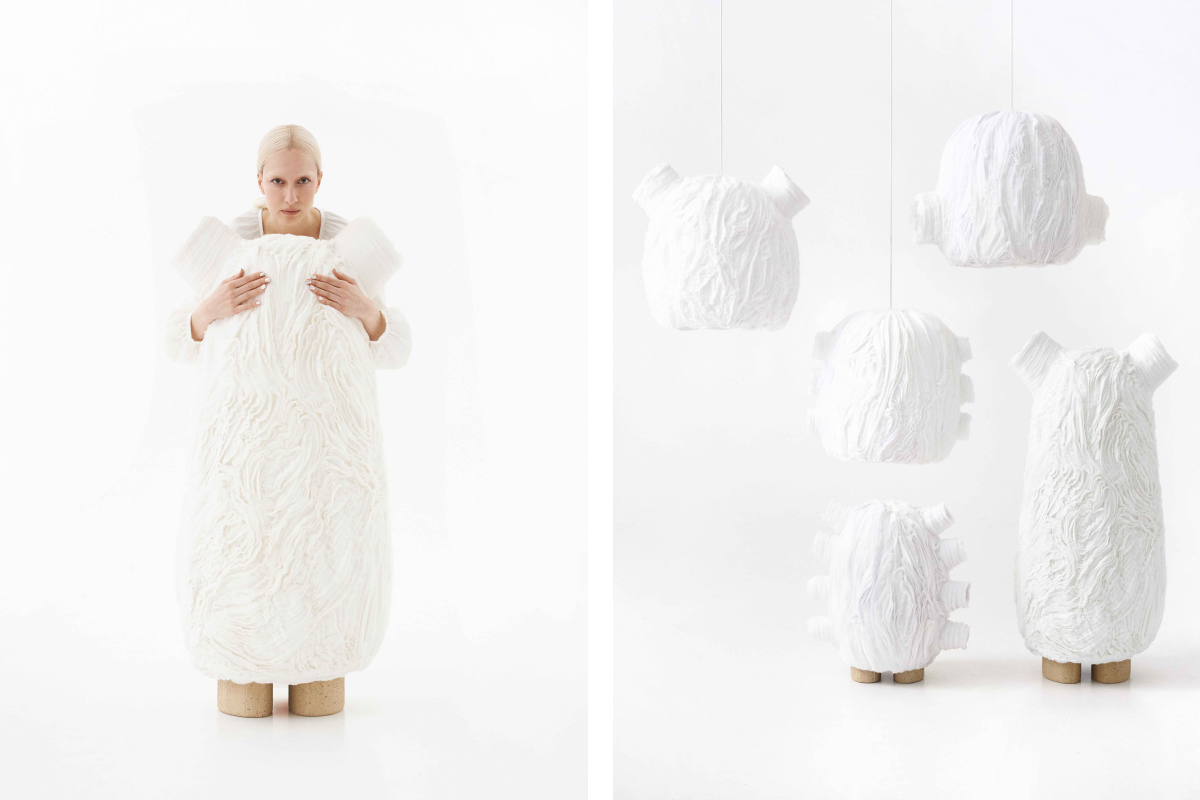 SOLOMIA. RCS
(SOLOMIA. Reshetylivka Craft Studio. Year of establishment 2004)
The studio of artistic crafts, which nurtures traditional Ukrainian crafts of weaving and embroidery, united talented hand-weaving craftsmen from the central region of Ukraine.
Tapestries, rugs, decorative decorations for the home, which are made by craftsmen's studios, preserve the warmth of handwork, just like a hundred years ago. The weaving technique is passed down from generation to generation, showing us that true art exists in time and is created in "purity".
In the CONTINUUM SOLOMIA RCS will give you experience and the mystery of creation. Visitors will be able to touch the ancient craft of weaving at master classes that will be organized throughout the exhibition. Under the guidance of craftswoman Galyna Shiposha, visitors get to know the tools and techniques needed to create beautiful textile products. Participants will be introduced to the basics of craftsmanship - yarn preparation, distinguishing between different types of weaving, and practical weaving. At the end of the master class, the participant will be ready to create truly amazing creations with his own hands!




DINARA KASKO
Dinara is a unique Pastry Chef from Ukraine. She graduated University of Architecture and Design and worked as an architect-designer and a 3D visualizer. She loved what she was doing as an architect, but now her passion is Patisserie.
Inspired by her architectural past, Dinara utilizes 3D-modelling technologies to create special geometric silicone cake moulds. These extraordinary desserts look like real creations of an architect. Combining computer modeling and cooking she creates extraordinarily sophisticated and extraordinary tastes. This is more than a dessert, which very often doesn't look edible at first. EDIBLE ART is the slogan of her works.
Dinara believes that the future Patisserie will be better, more unusual and with a better quality. She invents moulds to spread her idea of Patisserie of the future. Her state of creation is a pure state of search, experimentation, and creativity. For the CONTINUUM Dinara will recreate the taste of the future, which you will be able to experience. She will give us an answer to the question: how does the future taste? Obscurely?




DZHUS
DZHUS is a Ukrainian conceptual brand internationally known for its multi-purpose outfits, made of cruelty-free materials. The founder — Irina Dzhus is a Ukrainian designer and stylist, who creates conceptual clothing and accessories. Her pattern-making innovations help minimise physical shopping and create a versatile yet sustainable wardrobe from a few transformable garments.
Avant-garde yet utilitarian, DZHUS designs are internationally recognised by their innovative cut and multi-purpose transformations. By using exaggerated silhouettes and conceptual aesthetics as her tools, she expresses inner feelings through the clothes.
Many of DZHUS AW23 designs are conceived around pockets and bags, as an allegory for the evacuation process millions of Ukrainians went through, having taken only the belongings they could carry. Some of the outfits offer a transformation from an exaggeratedly utilitarian unisex silhouette into a fragile feminine look and vice versa. That is an allusion to the inevitable change of a personality under the influence of force majeure circumstances, often demanding heart-breaking decisions. Transformation of the clothes is a key performance of DZHUS, it shows how one object can be turned into another with utilitarian value. DZHUS performance at CONTINUUM is an unparalleled, mesmerising experience, as the designer herself shows metamorphosis of universal wardrobe items in front of the audience.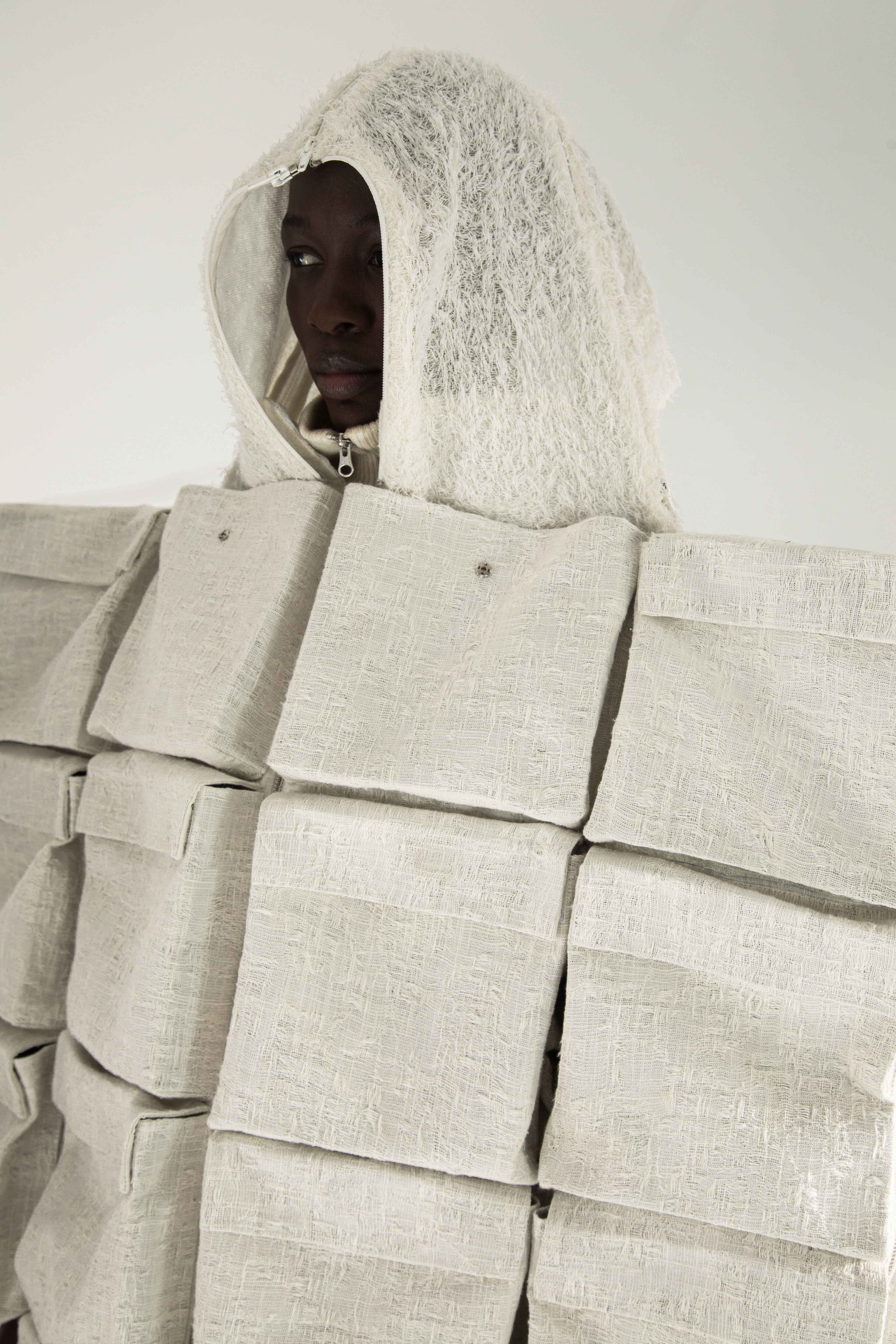 VLAD ZVARYCH
Vlad Zvarych is a Ukrainian perfumer, collector, conceptualist and critic. He is an ideologist of the revival of modern Ukrainian perfumery. Since 2020, Vlad has been the Chairman of the Guild of Perfumers of Ukraine. He is a collector of the Museum of vintage Ukrainian perfumery.
As a founder of olfactory practices he initiated a number of art projects, including a plein air of perfumers. Smell is the last sense to become "machine-readable". It is a sense which will never exist in digital, meta anything. You can just feel it in real life.
Vlad will present the new perfume "Serpanok". "Serpanok" is derived from Ukrainian "haze", it is a fragrance that embodies the code of our identity. In Ukrainian archetypes, haze symbolizes the beginning of something radically new. The haze reminds us of the morning light that overcomes the darkness. Young bleached linen symbolizes purity and is associated with white color in Ukrainian culture. CONTINUUM will engage each sense in various ways to form an experience of a moment. How will the moments be experienced in future? What is the smell of the future? You will be able to experience and feel that.

CONTINUUM will engage each sense in various ways to form an experience of a moment. How will the moments be experienced in future? What is the smell of the future? You will be able to experience and feel that.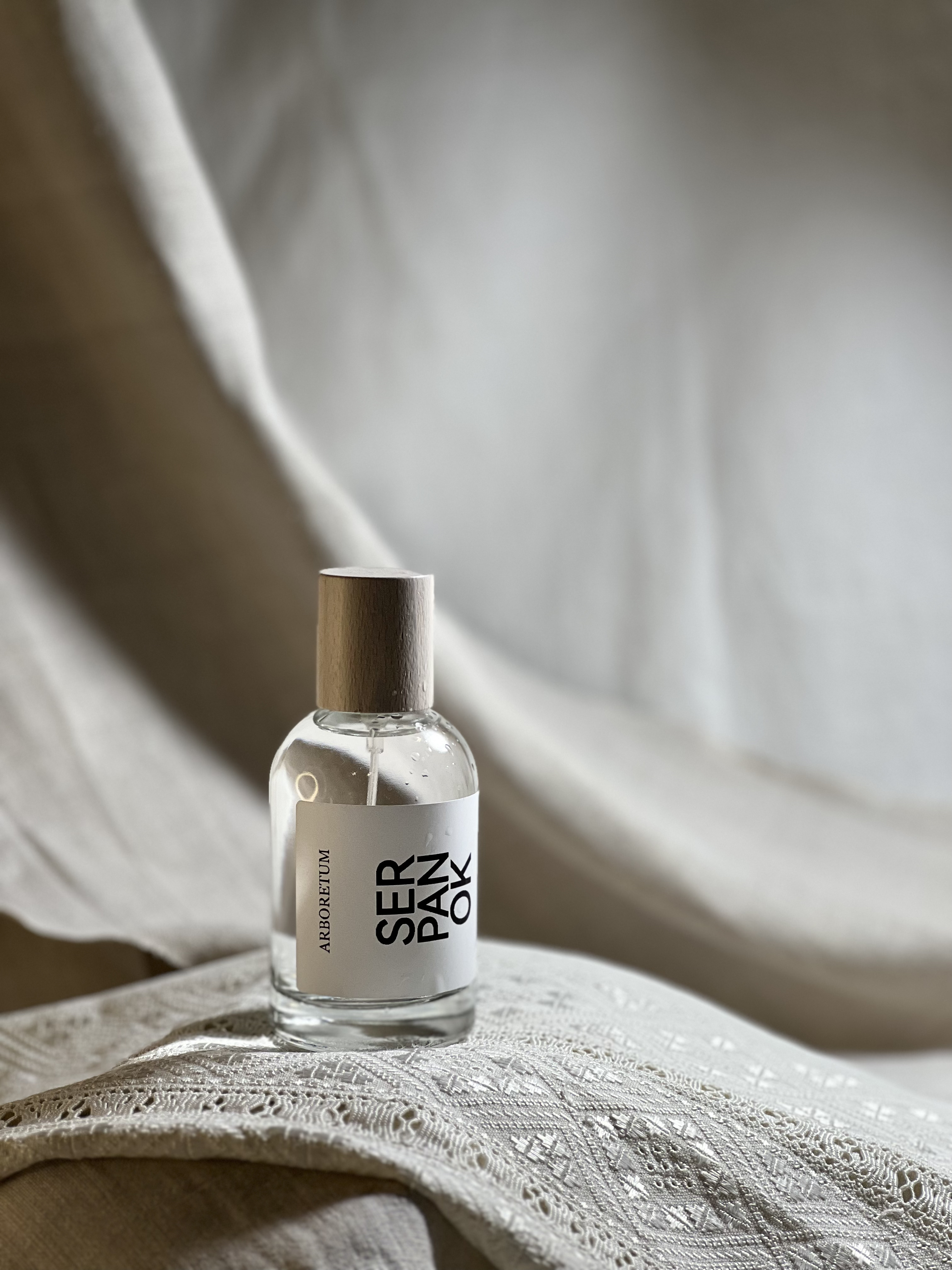 The CONTINUUM became possible due to the support of the American People through the United States Agency for International Development (USAID) under the Competitive Economy Program in Ukraine. The exhibition and its results do not necessarily reflect the views of the United States Agency for International Development or the United States Government.
The USAID Competitive Economy Program in Ukraine (USAID CEP) supports startups, small and medium enterprises (SMEs) aiming to provide support for competitive industries and firms on Ukrainian and international markets, foster a better business enabling environment, and enabling Ukrainian companies to benefit from international trade.
---
Tag:
Fuorisalone 2023
© Fuorisalone.it — All rights reserved. — Published on 05 April 2023