In Piazzale Zavattari, the new planning transforms the 1950s building into an innovative business center.
The project of Ivory is going to be set in the area between San Siro and City Life, an office building that comes to life from the recovery of part of the Isotta Fraschini car factory: 14,000 m2 on 12 floors above ground, with approximately 1,400 m2 of panoramic terraces, as well as multifunctional and retail spaces.




The office development - efficient, innovative and technological - is signed by the Milanese architecture firm Piuarch, a studio that ranging from the design of office buildings, retail and hospitality structures to the planning of housing complexes and urban renewal and regeneration projects, which worked together with COIMA, specializes in the investment, development and management of Italian real estate assets on behalf of institutional investors, with an integrated ESG impact approach.

Piuarch's project enhances the verticality of the building through the recovery of some architectural elements of the original structure, which is maintained, lightened and expanded thanks to the integration of a second grid of pillars, creating large balconies and terraces every two floors, usable as real outdoor extensions of the offices. This 'double skin', with large windows set between metal elements and vertical lines, giving the structure a slender appearance, while the different heights of the façade, the alternation of the loggias and the play of reflections between the windows give movement and dynamism to the building.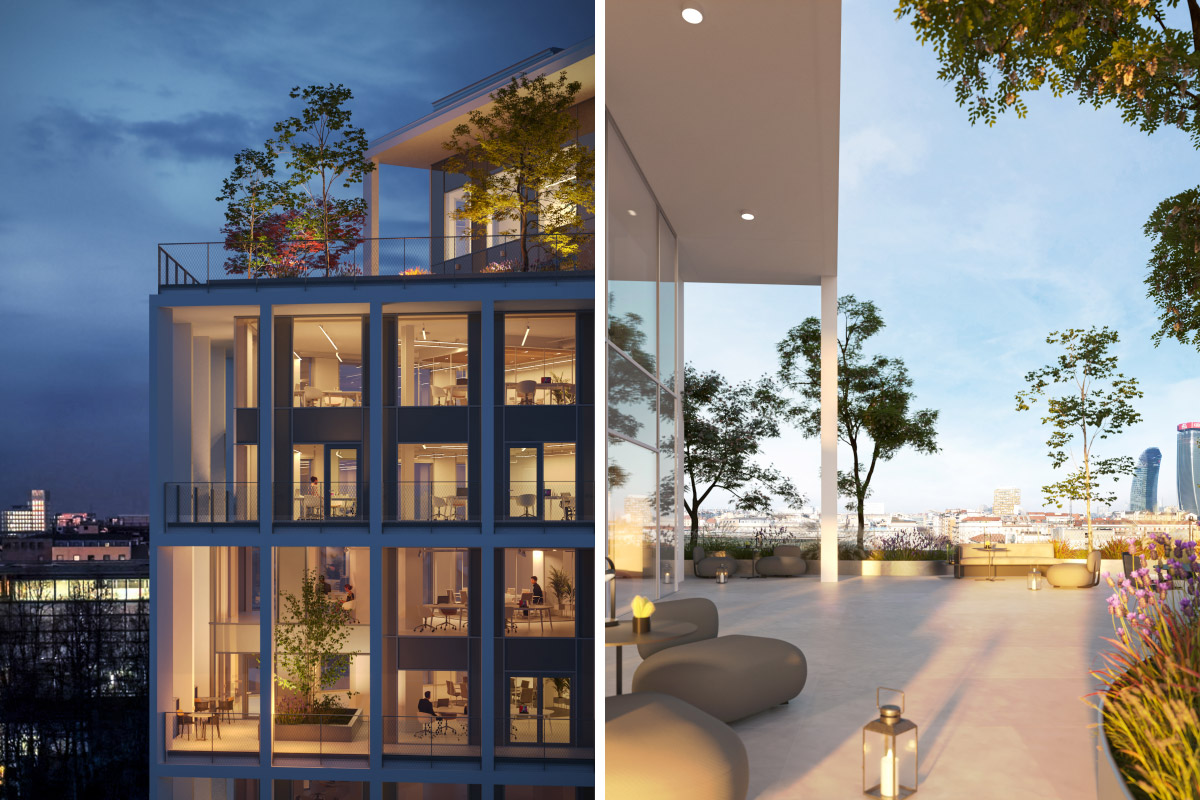 The outdoor spaces culminate in the two large green terraces on the 8th and 10th floors, consolidating the relationship between landscape and architecture and creating a dialogue with the city context also through a rethinking of the external areas on the ground floor, which open to the community. In fact, "the design aims to reuse and revive this 1950s factory building, taking elements of the original project and integrating nature, community, workplaces and technology to create a distinctive and sustainable new office building" says Gino Garbellini, partner of the firm Piuarch.

Ivory is designed in compliance with the highest ESG standards, with a strong focus on wellbeing and sustainability, targeting LEED Gold®, WELL Gold®, and WiredScore Gold® certifications. The project will also incorporate locally sourced and environmentally safe Cradle to Cradle® certified materials and products based on circular economy strategies. The project is being designed to massively improve the energy efficiency of the existing building. On completion, over 65% of its energy needs will be provided through on-site renewable sources, including a geothermal system for air conditioning and a photovoltaic system on the roof. - in addition, there is an advanced ventilation system and a cooling system without electricity, the so-called "Free Cooling".
---
Tag:
Architecture
Piuarch
Milan
© Fuorisalone.it — All rights reserved. — Published on 30 October 2023